SATURDAY, FEBRUARY 2, 2019
---
0900-1000
Main Stage: The Intersection of Anarchism and Hacker History
with David Collins
Car Hacking Village: Car Hacking Briefing
with Will Caruana
---
1000-1045
NUCC: Fireside Chats
An Interview with Matt Davis
---
1015-1115
Main Stage: From music tech make to manufacture
with Helen Leigh
---
1000-1200
23b Shop: Whispering to Your 3D Printer
with John Cabrer
---
1100-1145
NUCC: Fireside Chats
An Interview with Plasma
---
1130-1230
MAIN STAGE: I Can Haz PDF? Open Source Versus Academic Publishing
with Gregory Smith
---
1200-1300
NUCC: Getting in (A casual chat on Social Engineering & the Art of Penetrating Live Environments)
with $KÜ££H4X0R
---
1200-1300
23b: beyond the blinkie
with Beau Ambur
---
1200-2000
Plasmatorium: modular synth sandbox
with Matt Davis
---
1245-1345
MAIN STAGE: Emerging Realities
with Ray Mosco
---
1315-1345
23b: Everything You Need to Know About 3D Modeling in 30 Minutes
with Machinest
---
1400-1500
MAIN STAGE: PerSec PERsonal SECurity)
with Dan Lozano
23b: I'm not Good Enough to Talk About Imposter Syndrome
with Rig Moroi
---
1515-1615
23b: Python for hackers
with Ravin Kumar
---
1500-2000
Music Stage: House and Electro
with Icetre
---
1630-1715
23b: Mario Hollering Contest
---
1800-1930
Tesla Zone: Tesla Coil Demonstration
---
1800-0000
NUCC: OC2600 Presents Game Night at Sparklecon 6
---
2200-0200
Music Stage: Bleeds, Jiffypop23, Timon Marmex, & Unicorn Dream
0745-0845
Don Carlos Mexican Restaurant: Breakfast With Hackers
300 E Commonwealth Ave, Fullerton, CA 92832
---
0945-1045
MAIN STAGE: How hackers deal with mental health, a lesson from interviewing dozens of you!
with Robert Lei
---
1000-1100
NUCC: The Intersection of Hacker History
with David Collins
---
1100-1200
MAIN STAGE: Social Engineering
with Rig Moroi
---
1115-1145
23b: Barb Makes Things: 3 Years of Aggressively Rapid Prototyping
with Barb Noren
---
1200-1230
23b: KISS inspiredCircuit Sculptures
with Jasmine Brackett & Roger Cheng
---
1200-1230
23b: Faux vacuum forming
with Jasmine Brackett & Roger Cheng
CAR HACKING VILLAGE
---
Sat. 1000-1800 / Sun. 1000-1600
This is going to to an open challenge to all attendees we just ask people bring a laptop. We will be using open source hardware supplied by Macchina and open source software Savvy Can. The objective is to get largest DBC file. This will translate can messages to a human readable message.
This challenge will not only give people real world experience into car hacking but it will help the community by publishing these files so other car hackers will be able to get a jump start.
If you want to get a jump start download Savvycan today at http://savvycan.com/, you can read the Savvycan documentation at http://www.savvycan.com/docs/, or you can learn more about car hacking in general with the car hacking hand book located here http://opengarages.org/handbook/ebook/.
Whispering to Your 3D Printer
---
Sat. 1000-1200
Bring your broke down 3D printer and see if John Cabrer (The 3D Printer Whisper) can teach you how to breathe new life into it.
Topics Covered Inclued:
Why all 3D printers sometimes suck. This topic covers everything from design, and components, to settings and filaments that make 3D printing a nightmare.
Troubleshooting 101. Covers the fundamentals of troubleshooting any system. Not just 3D printers.
Mechanical Issues. How to know when something needs fixin'.
Firmware configuration. Covers Marlin, Repetier, and Sailfish firmware, and how to determine the right values for your printer.
Selecting and configuring the host software.
Selecting and configuring the slicer software.
Understanding your filament.
Question & Answer
3D printer repair marathon (subject to availability of broken printers on hand, and materials)
Salvage and Build Battery Packs With 18650s
---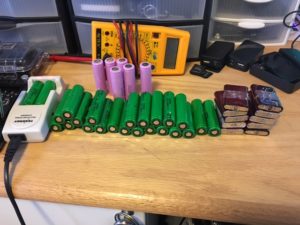 Sat. 1200-1300 / Sun. 1200-1300
with David & Tim Rugh
MARIO HOLLERING CONTEST
---
Sat. 1600-1630
Throw your cap, grab a magic mushroom, and triple your jump your way into the ultimate video game bragging rights as the champion of the first (and probably last) annual mario hollering contest. Channel your inner Charles Martinet and show sparkle city who will save them from the local turtle dragons run amok!
NUCC LAN Party
---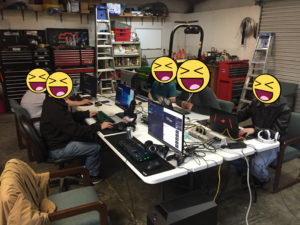 Sat. 1000-0200
Show up at NUCC for an old school LAN party and stay for the fun. There will be Tabletop, and RPG gaming. Raffles, tournaments, and other fabulous prizes. BYOB
Breakfast With Hackers
---
Sun. 0745-0845
Join your fellow hackers for Mexican style breakfast at Don Carlos located at 300 E Commonwealth Ave, Fullerton, CA 92832. You can park at Sparklecon and walk to the restaurant.